---
DP-002B
Digital

Infrared Motion Detector

Module

With NEW Digital Sensor
SENSOR VIEW

COMPONENT VIEW

MODULE PRICE $21.95
Micropower miniature Digital Motion Detector module operates on 2.7 to 3.6 volts at only 40 microamperes is ideal for OEM applications.
This tiny

module is a basic building block designed for use in the construction of a motion detector device. It

is only 0.5 X 0.7 inch and

includes a digital pyroelectric infrared sensor

and

a microprocessor.
The DP-002B eliminates the complex amplifier and comparator circuits that must follow a typical analog pyroelectric infrared sensor. The DP-002B output can source and sink up to 25 milliamperes to directly drive a light emitting diode or other load. The output can also be fed into a logic or other circuit to add specific functions such as robot control or triggering a camera shutter.
The DP-002B is designed to detect infrared radiation (IR) from a moving human or animal both in daylight and at night. It will only respond to a moving source of infrared radiation. It will not detect a static IR source.

It can be powered by a 3 volt lithium coin cell, two AAA cells or a 2.7 to 3.6 volt filtered and regulated power supply.
| | | | |
| --- | --- | --- | --- |
| | | | |
| | | | |
| | MODULE WITH AAA AND CR2032 COIN CELL | | MODULE WITH OPTIONAL PIN HEADERS |
Features______
Can be powered by 2.7 to 3.6 volts DC

Micropower circuits for low current drain

Average current

~

4

0

microamperes

Long battery life

Microprocessor

output

0 to VDD

25

milliampere

source and

sink

current

Can directly drive a

n LED and piezo buzzer

Programmable sensitivity setting

Programmable dwell setting

Adjusts output ON time from 200 m

illiseconds

to

10

minutes

Only

three

wire connections needed

Two for power

One for output
Digital Technology
The Glolab DP-002B module uses a Digital infrared detector. This new technology incorporates a sensor, amplifier, filter, A/D converter in one TO5 package.
Unlike typical analog pyroelectric sensors, the digital sensor outputs serial data pulses that represent the amplitude of detected infrared radiation in digital form. Since all of the amplification and signal processing is done within the sensor package, the detector has very high immunity to RF radiation from cell phones and other sources.
Below is a block diagram of the DP-002B module. The processor decodes the serial bits from the digital sensor and outputs a high level when motion is detected. The amount of time that the output remains on (dwell) can be programmed by an external resistor and can be set for one of ten times from 200 milliseconds to 10 minutes. Detection sensitivity that affects detection range can also be programmed for one of five sensitivity levels by an external resistor that is connected only during programming. The module is supplied with default settings of medium sensitivity and 1 second dwell time.
A minimum of three wires must be connected to the DP-002B; two for power and one for output. Since all three wires carry only DC levels and not signals, the DP-002B module can be located remotely from the load that it drives.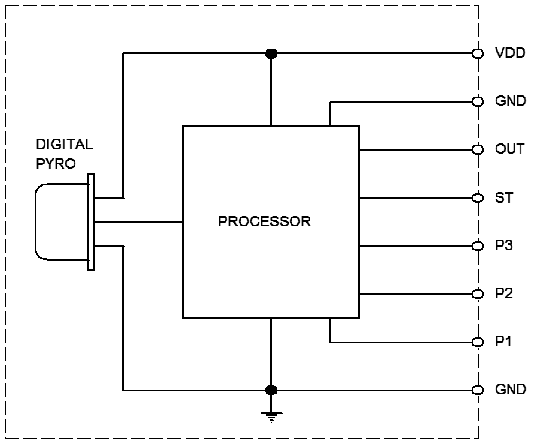 `
---
A Fresnel lens or other type of lens can be used with the DP-002A for long range detection.
---
See how to order


and view or print a complete manual for the DP-002B module. Manual includes functional description and pinout diagram.

If you don't have Acrobat Reader, download a free copy so you can view and print our PDF documents
---